Date: 04-23-2019
Time: 9:00AM-12:00PM
Location: 200 Yale Ave Morton, PA 19070
Topic: Understanding Autism Spectrum Disorder (ASD)
Presenter: Dr. Juhi Pandey
Presenter Bio:
Dr. Pandey is a pediatric neuropsychologist and scientist at the Center for Autism Research (CAR) as well as a Clinical Assistant Professor of Psychology in Psychiatry at the Perelman School of Medicine at the University of Pennsylvania. After receiving her bachelor's degree in Psychology in 2001 from the University of Rochester, she worked as a research assistant at The Kennedy Krieger Institute at John's Hopkins University on projects studying infants at risk for developing autism and other developmental disorders. She earned her doctorate in clinical psychology in 2008. Working under the supervision of Deborah Fein, Ph.D. at the University of Connecticut, she ran a younger sibling study, worked on a number of projects investigating the M-CHAT as an effective screening tool for autism spectrum disorders in toddlers, and conducted comprehensive autism evaluations. She completed her clinical internship at the Children's National Medical Center in Washington, D.C., with a particular focus on neurodevelopmental disorders and comprehensive neuropsychological assessment of children and adolescents with high functioning autism. She came to CAR to complete her postdoctoral fellowship and remained on as one of the supervising clinicians for deep clinical characterization of participants coming through various research protocols. Presently, Dr. Pandey manages multiple research protocols aimed at discovering connections between genes, behavior, and diagnosis. Dr. Pandey has a special interest in the early identification and diagnosis of ASD, clinical phenotyping, and brain-behavior relationships that impact diagnosis and treatment outcome and plays the lead clinical role on a number of infant and toddler as well as school-age studies at CAR. In addition, she is an active member of the Department of Outpatient Neuropsychology & Assessment, where she provides neuropsychological assessments to individuals with medical conditions.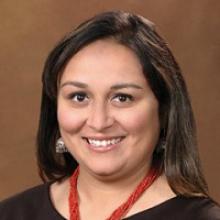 My discussion will focus on the identification and diagnosis of autism spectrum disorders (ASD) across the lifespan, symptoms and characteristics of ASD and those that differentiate and co-occur with other medical and psychological conditions.  In addition, challenging behaviors and behavioral interventions that can be implemented across settings will be discussed.  With regard to diagnostic procedures, screening instruments, and the components of a comprehensive evaluation will be discussed.  The audience will be led through considerations that should be made when choosing the appropriate structured assessment, such as hearing and vision impairments, physical limitations, and the verbal level of the child.  As part of the discussion on ASD diagnostic classification, I will discuss disorders that are typically co-morbid with ASD and those conditions that serve as differential diagnoses.
My presentation concludes with a discussion of intervention. This portion of the presentation will focus on a discussion of the various evidence-based interventions available.  A particular emphasis will be placed on the philosophy/underlying principles of various treatment modalities/systems.  The challenges of intervention will also be discussed in this segment.
The presentation will end by tying together the three components discussed.  A particular emphasis will be on the parents' reaction the ASD diagnosis and the sensitivity needed to help them through the daunting task of understanding ASD, coming to terms with the diagnosis, and helping families receive the appropriate interventions